Monarflex RAC Gas Membrane
Features
Monarflex® RAC is part of Icopal's Monarflex® gas control systems and may be used loose-laid with ground supported or suspended slabs, and is satisfactory for use as a damp proof membrane, and when properly sealed and detailed it will provide an effective barrier to the passage of methane, radon, air and moisture from the underlying soil. It is also suitable for dealing with volatile organic compounds (VOCs).
Monarflex® RAC is manufactured from four layers of virgin low- density polyethylene (LDPE) with a 12 x 12mm multifilament polyester (1670 dtex) reinforcing grid between to give high strength and tear resistance. The membrane also incorporates a 12 µm aluminium foil for low permeability to gases. The top surface is grey-coloured and ribbed, while the underside is grey with a smooth finish.  
Durability
Monarflex® RAC is manufactured to last the lifetime of the  construction provided it is correctly installed and not damaged by subsequent building operations.  
Application
Monarflex® RAC may be laid over or under the concrete slab. When laid below slab Monarflex® RAC should be placed on top of a gas permeable layer, such as hardcore blinded with well compacted sand. When placed above slab, the concrete should be dense, smooth and free from any projections which may damage the membrane. Monarflex® RAC should then be covered with a screed or other suitable protective layer. Membranes should be installed in accordance with the manufacturer's guidelines.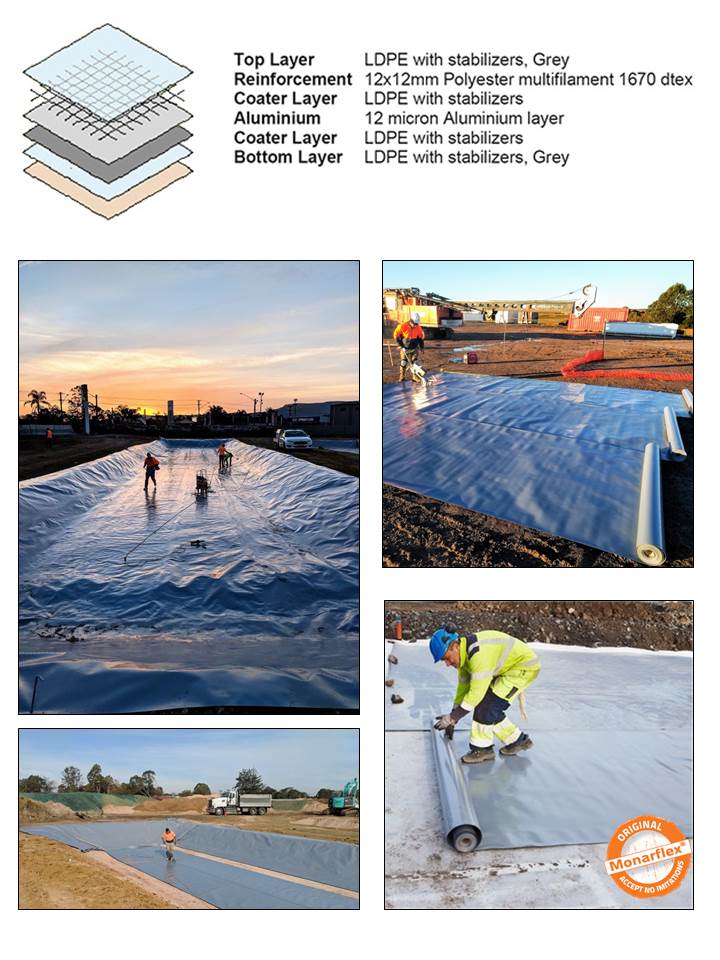 TO FIND OUT MORE INFORMATION IN RELATION TO OUR GAS MEMBRANES
PLEASE VISIT OUR GAS MEMBRANE SOLUTIONS (GMS) WEBSITE
Features
MONARFLEX Reflex Super is a high performance, six layer membrane manufactured from virgin low density polyethylene (LDPE) with a polyester reinforcing grid and an aluminium foil layer to give high strength, tear resistance and low permeability to gas. The membrane is coloured sand on the upper surface with a silver coloured underside.
Durability
MONARFLEX Reflex Super is part of the Monarflex gas control system and may be used loose laid with ground supported or suspended slabs and is suitable for use as a DPM when properly sealed and detailed to restrict the ingress of ground gases. Monarflex Reflex Super is recommended for use in situations of medium to high concentrations of radon gas or where
methane, carbon dioxide and other gases are present
Application
Installation of a gas barrier must only be carried out by professionals. To form joints between adjacent sheets of Monarflex Reflex Super, lap the membrane by a minimum of 150 mm and seal. Where methane or carbon dioxide are present, the membrane should be extrusion welded at all laps and joints where possible.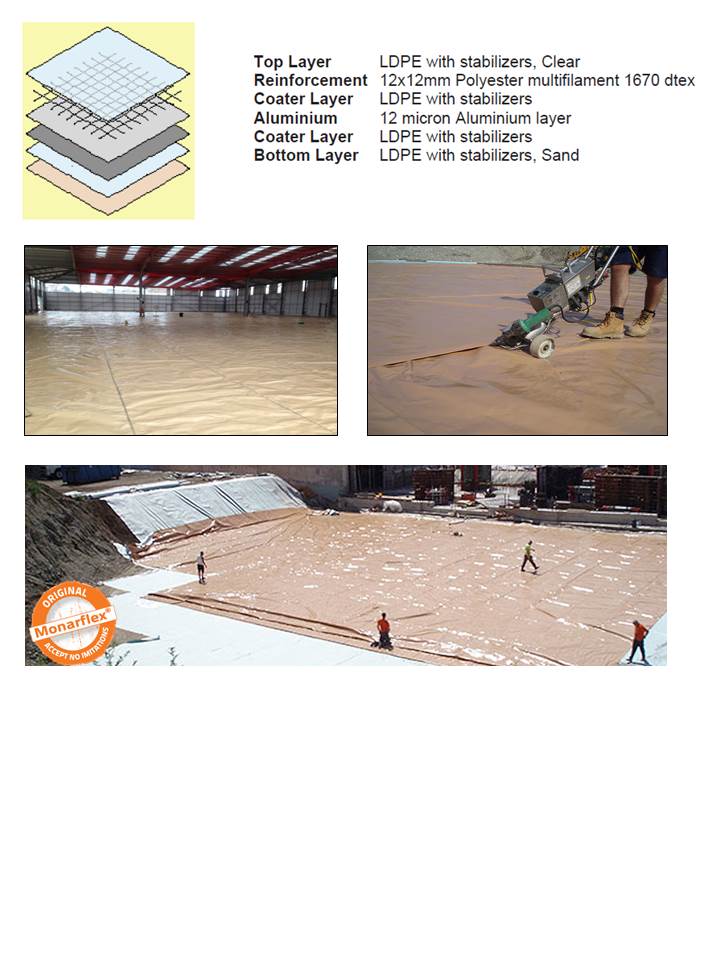 Geomembranes are used in civil engineering works either for separation of different layers of material or for preventing fluids like water or chemicals from undermining the structure of the construction.
Geomembranes can be used for:-
Separation layer for the structure of roads, bridges, tunnels, railways etc;

Protection of the ground water from percolation from landfills;

Environmental protection from chemicals from petrol stations and chemical industries;

Sealing of fertilizer tanks;

Sealing of water reservoirs, ornamental lakes, waste water, lakes, rain water lagoons etc.
Features
Monarflex geomembranes are composed of several layers of low density polyethylene (LDPE) ensuring a flexible and puncture resistant membrane. Polyethylene is easy to work with and maintains it's flexibility even at low temperatures. They are UV resistant and also resistant to a large number of chemicals.
Monarflex geomembranes are available in both reinforced (Gridline) and non reinforced (Blackline) form and in various grades available for different applications.
Application
Monarflex geomembranes are produced in 4m wide rolls and can easily be welded together and delivered in larger sections for ease of installation which must only be done by professionals.
Accessories
Monarflex offers a range of ground membrane accessories to compliment the membranes and ensure a completely tight and sealed system.
Accessories available include;-
• Pre-pressed Top Hats for pipe penetration;
• Double sided butyl tape for overlapping and sealing.